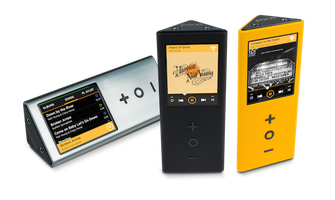 Giant things are happening in the world,
one of them is it seems like bad audio quality is undesirable finally.
Let us introduce you the PONO PLAYER high-resolution portable digital music player.
As an audio engineer I highly welcome this new audio pocket player.
The PONO Player able to play high-definition audio up to 192 kHz/24bit resolution, so now you can digitize your favorite vinyls and listen to them on public transport, or in your car.
I hope finally it can beat the iPod and MP3, so I don't have to fight against them anymore.
The Pono Player plays MP3 too, but trust me, you don't want to listen to MP3's anymore :)
I can't describe you how happy I am, and how I hate these compressed file formats.
Only little minus that I dont think this little player is ergonomic due to its triangular design.
It would not be comfortable when you sit down with a PONO Player in your hip-pocket.
Good news for professionals that they can use the 2 3.5mm jack outputs in balanced mode, so only thing they need is two small stereo jack-XLR adapter or cable.
Technical specifications:

 

Music formats

FLAC, ALAC, WAV, AIFF, AAC, MP3
Music resolution
 Lossless playback at up to 192kHz / 24bit
Storage
128GB total - 64GB flash memory plus SanDisk 64GB microSD card included
Expansion slot
Supports microSD cards of up to 64GB
Digital-to-Analog convertor

ESS ES9018M DAC

 

 

Battery

Large 2900mAH Li-Ion rechargeable for up to 8 hours of playback time

Charger

AC universal adapter (100-240 VAC)

USB cable

USB-to-MicroUSB cable

Screen

2.5 inch color touchscreen

Audio output

Two 3.5mm (1/8 inch) jacks, supports four listening modes

Weight

130 grams (4.6 ounces

Dimensions

13x5x2.5 cm (5x2x1 inches)
Anyway, the two 1/8 inch (3.5 mm) audio output jacks offer you four modes of operation:
1) personal listening mode via headphones or earbuds,
2) home stereo or in-car listening mode with fixed volume output,
3) PonoShare mode with two pairs of headphones/earbuds,
4) balanced mode provides ultra-performance for advanced users, separating left and right channel outputs across the two jacks. Great for use with high-impedance headphones, high-end home stereo systems, or professional equipment using balanced XLR input connectors.

Audio files can be loaded onto the Pono Player using the Pono Music Center desktop application (soon to be released on Windows and MacOS). The PonoPlayer can also be sideloaded as a USB storage device (Windows, MacOS, Linux).
Hurry up to pre-order! (ammm, yeah it's pricey)
Audio Cleaning Online
We deal with audio restoration